Turkey Frying Kits - Turkey Frying Seasonings
Insist on baking your turkey?
Try This
Turkey Fryers
- Grill Gauge
- Injectors
- Cajun Injector
- Deep Fry Thermometers
- Cooking Materials
- Beercan Turkey rack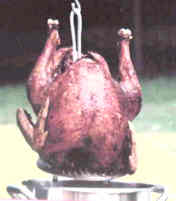 How do you Fry a Turkey?
Turkey Frying is a great way to enhance those holidays that folks expect to find turkey on the main menu. They will really be surprised at the taste and quality of your deep fried turkey. Turkeys are fried approximately 3 minutes per pound or until they float and are golden brown. Fried turkey is delicious and different especially if its been marinated with our special Cajun Injector marinade.


30-Qt. Turkey Fryer
(Item #691134)
Turkey fryer kit; includes 30-quart stockpot and outdoor gas stove Aluminum and cast-iron construction for high-quality performance; 10-PSI regulator Perforated poultry rack with grab hook for safely removing turkey from pot Vented lid; 12-inch stainless thermometer; 1-ounce seasoning injector Measures approximately 33 by 16 by 16 inches fully assembled.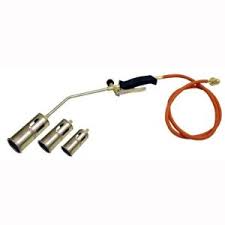 Propane Torch With 2 Extra Nozzles
(Item #220519)
Great for starting BBQ pits, fish fryers, etc. at a safe distance. Also great for melting ice, burning weeds, thawing pipes, etc. Runs on propane, has a 5ft hose with a 7" handle. Comes with 2 extra nozzels which measures 1", 1 3/8" and 2". It is color zinc plated.
Price: US$39.99
Cajun Injector 3 gallon Electric Multi Fryer
(Item #811534)
The 3 gallon Cajun Injector Electric Multi Fryer is the perfect gift for the frying father. This fryer will fry anything from fish to oysters. The small sleek design allows for easy use, storage, and cleaning.

Turkey Frying Pot 26 qt.
(Item # 691120)
Includes pot, holder, hook & thermometer. We really enjoy using our Turkey Frying Pot. The turkey holder works great, allows oil to cook all through the turkey and it's done in less than an hour! You've got to try it! Oh, if you want to fry fish, oysters,or chicken you'll need the perforated basket below.

Perforated insert for 26 qt. Turkey Pots
(Item # 691132)
Fits Bayou Classic and King Kooker Pots. Now you can boil crawfish, shrimp, lobsters or fry fish, oysters, shrimp etc. in your turkey pot!

Aluminum Turkey Lifter & Hook
(Item #691133)
For those that already have a pot to fry a turkey here's an important turkey fryer accessory.
It stands 12 1/2" tall
*** Words to the wise-- check your Turkey Lifter before you put it away each time you use it. You don't want that turkey to fall and splash that hot oil all over everybody!!
Or...have everyone watch you drop a perfectly good turkey in the dirt!! ***

Frying Spikes
(Item #691141)
For frying 3 chickens at once with your turkey lifter. (Set of 3) Works Great!

32 Qt. Stainless Steel Turkey Frying Pot
(Item # 691126)
Includes: Turkey holder, Thermometer, Basket, Lid & Hook Previously this was a 26 Qt pot with no basket - now you get 6 more quarts and a basket for only $10



Grill Gauge
(Item #670597)
Never have to guess how much propane is left again! No more embarrassing "We're out of gas!" situations. Just hook onto your 20 lb. propane bottle and lift. The gauge will tell you how much propane is left. No need to unhook the hoses either!
You need this!

INJECT-O-MAGIC
(Item # 620293)
"INJECT-O-MAGIC" WILL INJECT SOLIDS INTO YOUR MEATS, NOT JUST LIQUIDS!! Need to flavor up that roast, turkey, chicken, ham, fish, potatoes, and almost anything else to the peak of perfection? "INJECT-O-MAGIC" may be used to inject garlic, spices, herbs, as well as peppers, onions, tomatoes, celery, parsley, pimento, cheeses, shrimp, bacon, and many others. JUST TRY IT, IT'S WONDERFUL!! Bon Appetit!!


Parts?
Pistol Grip Injector
(Item #600403)
For large turkeys, roasts and hams. Injects up to 5.5" deep. Includes one perforated needle and one straight thru needle
THIS IS BIG! Needle measures 5.5"!
1.8 oz.




Cajun Signature Injector
(Item #690779)
This injector is for large turkeys, roasts and hams and will inject up to 5.5 inches deep. Includes a 3" needle with holes on opposite sides to maximize marinade distribution.
4 oz.




Cajun Signature Injector
(Item #690780)
Holds 2 ounces of marinade. Marinate chicken, turkey, roast, & more in just 1 minute! Use it over and over!
2 oz.




Perforated Injector Needle
(Item #600436)
Slanted needle measures 5". Great for injecting any liquid. This needle will fit our #690779, #690780, #600403




Slanted Injector Needle
(Item #600435)
Slanted needle measures 5". Great for large spices such as pepper corn or garlic. Can even grind up seafood or other meats and inject through this needle. This needle will fit our #690779, #690780, #600403



Cajun Injector
(Item #631644)
Creole Butter Recipe-Refill --no syringe.


GOOD STUFF!!!

Marinade Injector
(Item #632032)
60 cc. Syringe with large 3 inch needle that spices can get through.

Deep Fry Thermometer 12 inch long
(Item # 667007)
Important for maintaining quality and consistency in cooking

Deep Fry Thermometer 5 inch long
(Item # 645061)

Lou Ana Peanut Oil 3 gallons
(Item #630304)
Many say this is the only oil to use to fry turkey or fish - if you don't believe it - try it yourself! Just right for the 10 qt. fish fryer but the 26 qt. pot requires 2 of these.
Can be saved with refrigeration or freezing.

Stainless Steel BeerCan Turkey Rack
(Item #691149)
Grill turkey and add great flavor with this beer can turkey rack
Great for use on the grill.

ChickCAN Rack
(Item #691145)
Grill any whole chicken with beer. Adds great flavor.
Great to use in the oven, and great to use on the grill.

Re-usable" Turkey Timer
(Item #650109)
This pop-up timer lets you know when your chicken or turkey is perfectly roasted. Simply stick into the thickest part of the breast.When the internal temperature reaches 165F-185F/75C-85C, the timer starts to pop out. Reusable over 200 times.

Nylon Baster
(Item #629156)
Ideal for basting and removing fats and oils from gravies, sauces and soups.
Features safety ribbed bulb and heat-resistant plastic
Holds 1.5 ounces
Heat resistant nylon to 450f/230c
Measures 10.5-Inch/26.5cm
Hand washing recommended


Flameguard Oven Mitts
(Item #670693)
These tan oven mitts are 17" long. The exterior fabric is treated to resist and retard heat.


Meets US government standards.
Heat protection up to 400 degrees Fahrenheit.
Water and stain repellent for added safety.
Mitts sold in pairs.



Home
| Canning tools & accessories
| Canning Spices and ingredients
| Pressure Cookers
| Commercial Rangetop Cookware
| Mexican Cooking
| Outdoor Cooking
| Cookbooks
Bakeware
| Cast Iron Dutch Ovens
| Turkey Frying
| Pasta Machines
| Commercial Mixers
| Potato Processing
| Kraut Cutters
| Juicers and Strainers
| Making Cheese-Jellies-Vinegars and More
| Marinating
| Site Map
Here's an idea for Thanksgiving!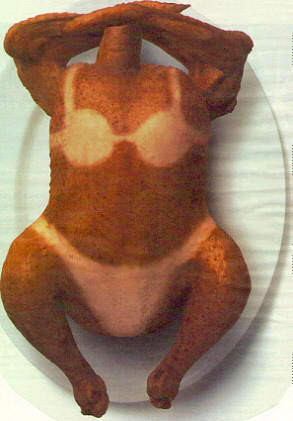 Catalog?
Join our email
&nbsp

&nbsp
1-800-300-5081
Email Us