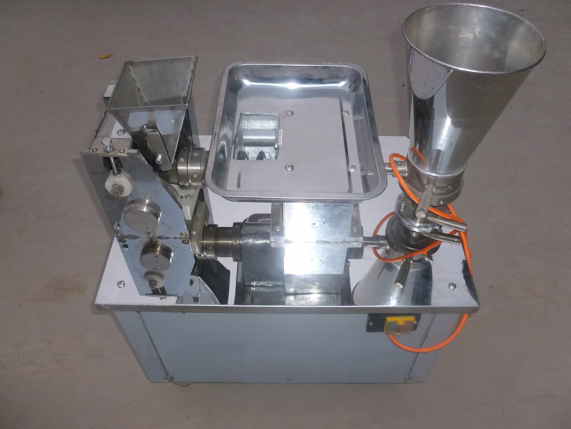 Video of How to Make Dumplings

For technical and disassembly
Dumpling (or Samosa) Maker Machine
(Item #600575)
A must have in restaurants and canteens. You can make dumplings, samosa, pot stickers, wonton, spring rolls, ravioli and many other filling foods. Just put the dough and stuffing into the two different feeders, start the stuffing switch, adjust if needed and the dumplings will start coming out. Save time and collect the economic benefits from this dumpling maker machine. Makes 4800 pieces an hour. Dumplings can be steamed, stewed, fried or even quick freeze and store them for future use. Should also make mini fruit pies. And who knows what else!
Size approx. 2" x 1"
Voltage: 110/60Hz
Power: 2.2kw
Dimensions: 26" x 18" x 31"
Stainless Steel Material
Easy to disassemble, install and clean
You can save on shipping charges if you have your equipment sent to a business that has a forklift or loading dock!
Please check box if you do not have a business address or loading dock or forklift.