Video of Super 6 Gallon Outdoor Cajun Deep Fryer
mobile html5 video by EasyHtml5Video.com v2.7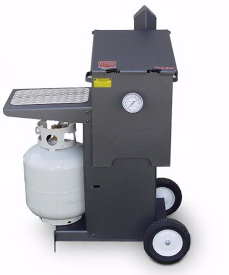 Super 6 Gallon Outdoor Cajun Deep Fryer
(Item #864024)
Fry up fish, French fries, hushpuppies, and more the Cajun way with this Super outdoor Cajun deep fryer! Boasting a 6 gallon oil capacity and 90,000 BTU, this super model two basket portable deep fryer gives you the extra power to keep up with demand at fish fries, large family gatherings, tailgating parties, BBQ's, and outdoor catered events. This fryer's heat source is specially positioned so that excess breading or batter will fall to the bottom of the fryer tank, avoiding harmful buildup and ensuring even heating throughout the well. This prevents your fried foods from being scorched and keeps the fryer oil cleaner, resulting in up to 70% less oil usage when compared to similar units For added convenience, the fryer tank detaches from its stand so that you can take it anywhere, and it also features a built-in dial thermometer for easy temperature monitoring.
Features a carbon steel frame with charcoal gray finish to ensure that it will last for years to come. This model comes set up for liquid propane. To easily move it into place, it also comes with a stand with 8" wheels. Cooker separates from the caddy for easy transport.
*Propane bottle not included