Fish Pans - Serving Cast Iron - Grills - Combo Cookers
Cast Iron Bean Pot
(Item # 645672)
6-Qt. Soup Pot with Domed Basting Lid 10.5-in Diameter x 6.75-in Height This heavyweight cast iron soup pot enhances slow cooking by heating evenly and locking in moisture for tender results. Flat bottom exterior and rounded interior facilitate stirring and whisking, making it useful for reducing sauces and simmering risotto. Pre-Seasoned for a smoother finish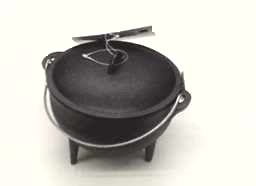 1 Qt.Round Bottom with Lid
(Item #645337)
Round Bottom with Lid.
This pot is great for smaller portions and serving from the table.
Measures: 6" diameter 4.5" high without lid. 5.5" with lid.
Price: US$29.99
Lodge Country Kettle 1 pt.
(Item #645067)
Great small kettle with lot of uses. Serve chili, cook small servings, bake beans, cook onion soup, lots more.
Preseasoned for your convenience!
5" diameter 3" high
Made in the USA

| | | | |
| --- | --- | --- | --- |
| Quantity: | 1 | 6 | 12 |
| Price: | US$12.99 | US$12.49 | US$11.99 |

Home Sweet Home Skillet
(Item # 645481)
Makes a great gift, good for cooking or even decoration!5 in. diameter

Welcome to Lousiana Ashtray/Spoon Rest
(Item # 645480)
Great way to keep your stove top clean while making your favorite dishes.Width 4.5 in.

Texas Grill Press
(Item #619500)
5.5"x9" Makes perfect steaks and beautiful bacon with a TEXAS print!
Already Seasoned

Bacon or Steak Grill Press
(Item # 645483)
Makes perfect steaks and beautiful bacon.Measures: 5.5"x9"

Lodge 3 Qt Combo Cooker
(Item # 644912)

The Lodge Cast Iron 3-Qt Combo cooker is a multi-functional cookware that works wonders with slow-cooking recipes and all your favorite foods. It's a deep skillet, a fryer, a Dutch oven and the lid converts into a shallow skillet or griddle. This versatile piece of cast-iron cookware allows the preparation of almost any recipe. Cast iron loves a campfire, a stovetop, or an oven, and can slow-cook foods without scorching.
Made in the USA

4 QT. Cast Iron Chicken Fryer w/ Basket
(Item #645298)
Makes frying chicken an easy task with handy strainer basket.
Heavy Duty, durable, and designed to last for years to come. Hand wash with stiff brush and hot water Cooking with cast iron provides nutritional iron intake Great for Grandma's fried chicken recipe.

3 Qt. Fry Basket
(Item #646112)
Comes with foldable handle for easy storage!
6.5 inches in diameter and 3 inches high.
Works great with #644985

3qt Cast Iron Sauce Pan
(Item #644985)
Ready too use right out of the box. Classic design will last a lifetime.

Cast Iron Wok
(Item #645158)
Rugged durable and long lasting, it has great heat distribution and retention keeps food longer it is also easy to clean. It has a 12.5" diameter and the bowl is 2.5" deep.


Carrying Case for Griddle
(Item #644999)
Fits 9.5" x 20" griddle
Made of rugged, waterproof polyester.

*Griddle NOT included!

Cast Iron 6 Qt. Combo Cooker
(Item #646111)
1 foot in diameter and 4 inches high. This is one great chicken fryer and you can turn the lid over and use it as a griddle! Two very useful cooking tools in one compact package.

Lodge Cast Iron Oval Server
(Item #645661)
Just what chef ordered, a 36-ounce oval serving vessel for Quail and Wild Rice. Or a medley of Cold Seasonal Veggies and London Broil. Frankly, the possibilities are endless.
9" x 7" interior, 12-1/2" overall length, 1-5/8" depth. Seasoned and ready to use.
Made in the USA

Round Cast Iron Casserole
(Item #645558)
Seasoned. Ready to use!
Picture not to scale.
Dimensions 6 3/8" diameter
and 8" from handle to handle and 1 1/4" deep.

Lodge Oval Cast Iron Casserole
(Item #645559)
This serving dish is great for ensuring heat retention and even heating during use. And, since it comes pre-seasoned from Lodge, it offers a natural, easy-release finish that improves with use, letting you cook healthier by limiting the amount of oils needed in your cooking. Ensure rust-free cookware with Lodge heat-enhanced cookware, like this. It's the only line on the market using this innovative heat-treating process to guarantee longevity in your commercial kitchen.
Made in the USA.
Overall Dimensions: Length: 12 1/2" Width: 7" Height: 2 1/2"

Lodge Cast Iron Rectangular Mini Server
(Item #645560)
Bake and serve your favorite side dishes or appetizers in style. Perfect for homemade spring rolls or mac & cheese.
10 oz., 5-7/8" x 4-1/4" interior, 7-1/2" length, 1-1/16" deep, rectangular, cast iron (hand wash only - do not use dishwasher). Seasoned
Made in the USA

Cast Iron Casserole 3 Part
(Item #645561)
Seasoned. Ready to use! Picture not to scale.
Dimensions 9 5/8"X4 5/16"X 1 1/8"

Lodge Cast Iron Melting Pot
(Item #645660)
Perfect for warming butter, melting cheese, scalding milk or heating syrup. Versatile for stovetop or BBQ grill. Sure to become your favorite pot for smaller portions of sauce. Cast iron handle with loop for hanging storage; integrated spouts for pouring, 16 oz capacity. Seasoned and ready to use. Made in the USA

2 Qt. Cast Iron Tea Kettle
(Item #645346)
Kettle is made of heavy cast iron, is pre-seasoned to perfection and ready for use. Cast iron cookware makes for superior heat retention, even heating of teas and provides nutritional iron intake.

Home
| Canning tools & accessories
| Canning Spices and ingredients
| Pressure Cookers
| Commercial Rangetop Cookware
| Mexican Cooking
| Outdoor Cooking
| Cookbooks
Bakeware
| Cast Iron Dutch Ovens
| Turkey Frying
| Pasta Machines
| Commercial Mixers
| Potato Processing
| Kraut Cutters
| Juicers and Strainers
| Making Cheese-Jellies-Vinegars and More
| Marinating
| Site Map
Catalog?
Join our email
&nbsp

&nbsp
1-800-300-5081
Email Us