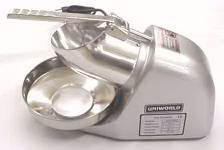 Ice Shaver
(Item #683007)
MAKE YOUR OWN SNO CONES OR SLUSHY DRINKS!
Finely shaves crushed bag or block ice and ice cubes into a delicious treat!
Mix your own concentrate, syrup, coffee or soda flavor for a cold and refreshing treat.
Makes 143 lbs. of shaved ice per hour!
You could make some $MONEY$ with this machine! These are certainly popular in assisted living centers, daycares, camps and parties.
110 V.A.C.