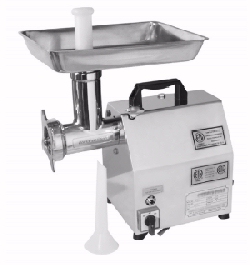 NEW!! 220 VAC 50 cyc.
For our International Customers!
American Eagle #22 Electric Meat Grinder (Item #699598)
Has large stainless steel tray, pan, knife, plate, auger & head. Forward and reverse and resetable circuit braker. This unit will also interface with the American Eagle Tenderizer head (600298) so you can have a dual-purpose machine that can tenderize and grinder with only a small additional investment.
It has a 1.5 horsepower motor, 220 V.A.C. designed for heavy duty work and commercial food processing applications.