WOW!!!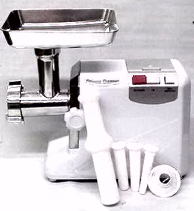 What a GREAT Deal!!
Pro Processor Electric Meat Grinder
(Item #698109)
Easily create sausages or meatballs or grind your own meat for hamburgers, chilis and stews with this electric meat and food grinder. You control the fat content, and flavor with the spices you choose. You can quickly and easily grind fresh beef, pork, turkey, chicken or ham. Powerful 3/4 HP motor has forward and reverse switch for trouble-free operation, 110 volt. Includes three grinder plates measuring 2.58" in diameter, three stuffing tubes measuring
4 1/8" long, with diameters measuring 1", 3/4", and 1/2". Comes with a Kubbe attachment, meat tray and a meat pusher.