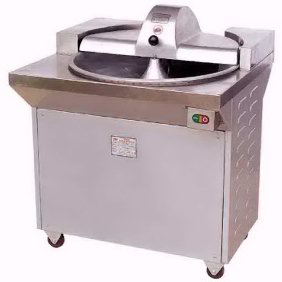 Video of 20 Liter Bowl Cutter

Check the video, can't you think of lots of labor-saving and time-saving uses for it?

Professional Processor 20 Liter - Bowl Cutter
(Item #646323)
1.1 kw or 1.5 HP. capacity 130 Quarts/hr. Great for making potato salad, coleslaw or sauerkraut. This single-speed food cutter is designed and suited to cut up vegetables, fruit and herbs as well. It is driven through enclosed-gear with a covered slicing blade. These bowl cutters are compact and safe. All parts that contact food are made of stainless steel or Al-alloy and all are in conformity with international hygiene standards. It is an ideal machine for food preparation in commercial or institutional kitchens.
Approx. L 32" x T 37" x D 29.5"
Bowl is Food Grade Annodized Aluminum 110 V
275 Lbs
Full- One Year Parts Warranty.

Also Known as a Buffalo Chopper
You can save on shipping charges if you have your equipment sent to a business that has a forklift or loading dock!
Please check box if you do not have a business address or loading dock or forklift. Manual for 20 liter Bowl Chopper