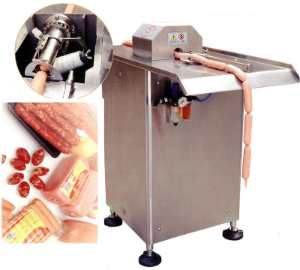 Video of Sausage Tying Machine
html5 video player by EasyHtml5Video.com v2.7
Sausage Tying Machine
(Item #600670)
Great for small or large batches! Finally an affordable Sausage Linking Machine for Commercial Operations! Handy hand control . Pneumatic powered. Heavy duty construction. Requires air compressor.
Has 1 year Parts Replacement Warranty! All Stainelsteel top.
Shipping Weight 300 lbs.

Remember, when using this machine, do not pack the casing tightly. The tying process will compress the meat when it squeezes the casing. Ties up to 100 links per minute. Especially important with small links, you may have to not pack meat in casing to tightly to allow for knot.
Boy! Will this machine save you some time!!
WOW!
You can save on some shipping charges if you have your equipment sent to a business that has a forklift or loading dock!
Please check box if you do not have a business address or loading dock or forklift.