NEW!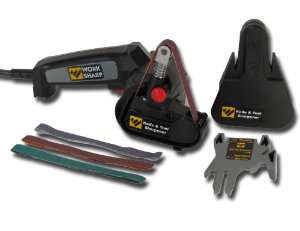 GREAT!!

My knife has NEVER been sharper -
Leslie
Video of Work Sharp knife and Tool Sharpener
html5 video player
by EasyHtml5Video.com v2.7
Work Sharp Knife and Tool Sharpener
(Item #611208)
The Work Sharp Knife & Tool Sharpener is the first knife sharpener designed to sharpen every knife you own. Using flexible abrasive belts, the sharpener is able to sharpen not just straight bladed knives, but also curved knives, tanto blades, filet knives, serrated knives, gut hooks and virtually any other shape of knife blade. The Knife & Tool Sharpener uses precision angle sharpening guides to ensure that you get the proper angle every time.
The Work Sharp Knife & Tool Sharpener is also able to sharpen other common tools including scissors, axes and hatchets, mower blades, garden shears, shovels, and most any tool with a blade. The versatility of the Knife & Tool Sharpener makes it an invaluable tool for keeping all your blades in razor sharp condition and ready whenever you need them.
Includes:
WSKTS tool sharpener, 40° kitchen knife guide, 50° outdoor knife guide, serrated knife guide, scissor sharpening guide, Abrasive belt kit, Instructional DVD, and User's Guide.
Uses the same technology as expensive professional sharpeners!