Heinsohn's Calendars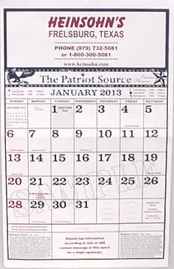 Pre-order your 2024 Heinsohn's calendar today!
Now one month per sheet!
NEW Heinsohn's Country Store 2024 Calendar
(Item # 950050)
This is a new calendar and almanac. The calendar will now have full page months, no longer two months on a page. For example January and December are currently on full pages. The calendar known as the Cardui Calendar which was printed by Chattam Drug Company is no longer being printed
We searched long and hard for a replacement of the Cardui Calendar and almost gave up! Then we found this calendar and we are pleased that it has the features of the Cardui calendar. It's a great calendar! Has room on each date to make notes. Includes phases of the moon and much more!
YAY! Free Almanac included as long as they last!
DON'T WAIT! WE SOLD OUT LAST YEAR!!

| Flags and Poles
| Wrought Iron Texas Stars
| Wooden Decor and Furniture
| Vintage Bird Houses
Oil Lamps
| Kitchen Decor
| Brass Plaques
| Texas Stuff
| Site Map
Catalog?
Join our email
&nbsp

&nbsp
1-800-300-5081
Email Us