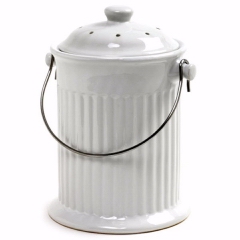 White Ceramic Compost Crock, 1 Gallon
(Item #590864)
Attractive white ceramic compost keeper that will look good on any counter top. Has a sturdy stainless steel handle for easy transport. Store peelings, egg shells, coffee grounds, greens, clippings, fruit and vegetable scrapes for transfer to your garden compost. Wash with warm soapy water, rinse and dry.
Measures: 10.5" x 8" x 7.25"