Manual Spiral Potato Cutter
(Item #637000)
Make tornado fries, twisted potato chips and veggie snacks with this stainless steel constructed potato cutter. It features a tornado or spiral shaped cutter that is great for home use, specially designed for making leisure food or party platters.
Stainless steel construction
Low maintenance
Non-slip rubber feet
Simple operation
Overall dimensions: 10.25"(L) x 4.5"(W)

Electric Spiral Potato Cutter
(Item #637001)
Comes with two plates,tornado spiral, and curly fries. GREAT for home use or restaurant use.
Be the ENVY of any Party or Fundraiser or set up a Concession Stand and have them coming back for more.. The addition of chips on a stick, tornado potato or twisted tators to your menu items can contribute to an increase in volume and an increase in your bottom line profits.
Any shape potato
Anti-slip Rubber Feet
110 Volt
LED Counter

French Fry Cutter
(Item # 644035)
The Chard Professional Grade French Fry and Vegetable Cutter is a premium piece of equipment for the serious user. Ergonomically designed cast handle uses leverge to multiply force, allowing the user to quickly cut large russet and even sweet potatoes. Design of unit allows it to be mounted vertically on wall or bolted to a bench or table.Unit includes four cutting plates and corresponding pushers (1/4", 3/8" and 1/2" fry cutter as well as fruit corer and an 8 wedge slicer). Unit easily disassembles for easy clean-up. Make Small, Medium or Large French Fries or core and slice Apples and other fruit!No other French Fry Cutter does all this at one low price!
Mount on table or wall!



Commercial French Fry Cutter
(Item #650222)
This 13 X 7 inch French Fry Cutter includes a 3/8 inch cutter! Perfect for any restraunt wanting to make homemade french fries! Quick processing and easy clean up! Additional cutters available in 1/4" & 1/2".
**Bonus: Suction Cup Feet Included!!!

Commercial French Fry Cutter
(Item #699891)
Includes 2 Stainless Steel Cutting Attachments For Thick or Thin Fries. Cuts 6" Long Potatoes into 3/8" or 1/2" Strips. Cuts Fruits and Vegetables, Too. Mounts on Wall or Counter Top. Cast Iron Body will last a lifetime. Additional cutters available in 1/4" & 1/2".
**Does Not Include Suction Cup Feet; Sold Separately!!!
(Item #670555)

1/2" French Fry Cutter Blades
(Item #670554)
Blades will fit both Commercial French Fry Cutters: (Item #650222) and (Item #699891) above.

1/4" French Fry Cutter Plate
(Item #670553)
Make your french fry cutter more versatile with these cutter plates.
Blades will fit both Commercial French Fry Cutters: (Item #650222) and (Item #699891) above.

French Fry Cutter Suction Cups
(Item #670555)
Use your french fry cutter anywhere with these handy suction cups. Easy mounted, all hardware included.
Suction cups will fit both Commercial French Fry Cutters: (Item #650222) and (Item #699891) above.

Deluxe French Fry Cutter/Fruit Wedger Set w/ Suction Base
(Item #670229)
Includes 2 stainless steel french fry cutters with 36 and 64 holes and an 8 segment fruit wedger. Effciently slice uniform thick or thin french fries with one simple move. Great for cutting vegetable batons for party trays. Fruit wedger easily cores and slices uniform segments without the mess. Suction base adheres securely to countertops and cutting boards. Comfort grip handle.

Home Style French Fry Cutter
(Item #650220)
Includes removable 1/2" and 3/8" cutting blades. Cuts thick or thin Potatoes. Secures to counter top with adjustable suction cup.

Stainless Steel Food Mill
(Item #600439)
Food Mill is the perfect tool for preparing fresh purees, sauces, soups and more. It has a stainless steel inner bowl to accommodate hot foods and prevent staining, and includes 3 stainless steel grinding discs for fine, medium and coarse textures. Use the fine disc for homemade jellies, creamy sauces and baby food, the medium disc for applesauce and vegetable soups, and the coarse disc for mashed potatoes and chunkier sauces. The Food Mill has a simple, spring-loaded lever that makes it easy to exchange discs and disassemble for storage.

Potato Ricer/Fruit Press
(Item #670198)
Potato ricers incorporate air into your boiled potatoes, making them light and fluffy. This is a quick and easy way to make smooth and lump free, perfect mashed potatoes, sweet potatoes, apples, pears and carrots for any occasion.

Heavy-duty Triple Chrome Plated Metal Construction
Comfortable Solid Grip Handle
1.8 cups
10.5" Long . Ricer Cup is 3 3/4" diameter X 2.5" deep
Extra-long handles give you more leverage
Boil potatoes and simply press through
Perfect for light, fluffy mashed potatoes, chunky or smooth

18/10 Stainless Steel Potato Ricer
(Item #670193) Stainless steel potato ricer makes easy work of mashing potatoes, making homemade applesauce. Fill the hopper with cooked potatoes and squeeze down the upper handle. Perfect for homemade baby food.
Made of stainless steel
Hand washing recommended

Also good for stomping kraut

Potato Masher
(Item #655224)
This potato masher measures 24" and has a wooden handle. Great utensil for many things including mashing potatoes and stomping saurekraut.

Vegetable Peeler
(Item #670058)
Comfortable plastic handle. Hardened stainless steel blade.

Vegetable Peeler
(Item #670691)
Large comfortable plastic handle. Stainless steel blade.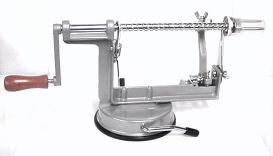 Gourmet Apple-Potato Peeler Slicer Corer
(Item #676900)
This unit is perfect for apple pies. Quickly peels potatoes for fries, salads or soups. Comes with a powerful suction cup base. This heavy-duty vacuum base mounts securely to any smooth flat surface. Stainless steel paring blade that easily adjusts to allow for different peeling thicknesses. Spring tensioned arm adjusts the blade to follow any contour. Has stainless steel slicing and coring blade. The blade effortlessly performs both functions at the same time. The blade can also be removed to allow for peeling only. Also has a durable cast aluminum frame construction engineered for precision tolerance and extra long life.
Measures:10"L x 5"H

Home
| Commercial Rangetop Cookware
| Mexican Cooking
| Outdoor Cooking
| Cookbooks
Bakeware
| Cast Iron Dutch Ovens
| Turkey Frying
| Pasta Machines
| Commercial Mixers
| Potato Processing
| Kraut Cutters
| Juicers and Strainers
| Making Cheese-Jellies-Vinegars and More
| Marinating
| Site Map
This Document
Was Last Modified
On May 4, 13

This menu takes a few moments to load, but it will enable you to move to any other page on the website in one click!
Products on the page separated by br
Become an Affiliate!



1-979-732-5081
esta página en español
About Heinsohn's
Find Our Products Here
Affiliate Program
Share with a Friend


Blog
Alligator heads
Armadillos
Bait Catching
Bake - Kitchen Ware
Band Saws
Banks
BBQ Equipment
BBQ Hickory Chips
BBQ Rub
BBQ Seasoning
Bat House
Bean Slicers
Beer Making
Beer Making Books
Bells
Beverage Making
Bird Feeders
Bird Traps
Bird Houses
Bluebonnet Seeds
Books
Bowl Choppers
Bread
Burners, Propane
Butchering
Butcher Saw Blades
Butcher Saws - Electric
Butcher Saws - Hand
Butchering
Cajun Cooking
Cajun Fried Turkey
Calendars
Camp Ovens
Candles
Canning
Casings
Cast Iron Banks
Cast Iron Cookware
Cast Iron Cure
Cat Traps
Cement Mixer
Chafing Dishes
Chainsaw Accessories
Chainsaw Sharpener
Cheese Making
Chilegrills
Chumming Game fish
Cleavers
Clogs
Clothing and Headwear
Coffee
Commercial Cookware
Commercial Curing Equipment
Commercial Mixers
Commercial Sausage Stuffers
Commercial Vacuum Machines
Contact Us
Cooking
Cookpots Large
Cooking Tools
Cookware, castiron
Cookware, commercial
Cookware, SS
Corn Recipe
Crab Traps
Crockery
Crosses
Cultivator
Cutting Boards
Deep Fryer
Deer Feeders
Deer Feeders Accessories
Dehydrators
Dominoes
Doorstops
Duster, Garden
Dutch Ovens
Electric Appliances
Electric Butcher Saws
Elec. Butcher Saw Blades
Electric Car Jack
Electric Meat Grinders
Entertaining
Ethnic Cookbooks
Ethnic Cooking
Evaporative Cooling & Fans
Fajita Pan
Fire Pits
Fish Books
Fish Feeders
Fish Frying
Fish Nets
Fish Traps
Fishing Products
Flags
Flower Seeds
Food Preservation
Freezer Paper
French Fry Cutters
Frog gaffs
Fry Baskets
Frying Fish
Frying Tools
Game Cook Books
Game Feeders
Games
Game Traps
Garden Cart/Seat
Gardening
Garden Seeder
Garden Seeds
Gift Certificates
Gill Nets
Grain Grinders
Griddles
Griddles, cast iron
Griddles, large
Grinders-Meat
Hamburger Patty Presses
Hamburger Seasoning
Hammocks
Health Remedy
High Wheel Cultivator
Hitch, Trailer
Hog Traps
Homemade Wine
Hoopnet
Horse Items
Horse and Tack Books
Horseshoes
Hummingbird Feeder
Ice Cream Freezers
Ice Shavers
Indoor Weathervanes
Injectors, Marinade
Jackalopes
Jerky
Jerky Cutter
Jewelry
Juicer
Kerosene Lamps
Kettles
Kitchen Gadgets
Knives
Knife Sets
Knife Sharpeners
Kraut Cutters
Ladders
Live Traps
Log Splitter
Manual Meat Grinders
Marinade Injectors
Marinades
Meat Cubers
Meat Curing Equipment
Meat Curing Spices
Meat Grinder Parts
Meat Grinders
Meat Mixers
Meat Processing
Meat Processing Acc.
Meat Processing Safety
Meat Saws
Meat Saws
Meat Slicers
Meat Tenderizers
Metal Signs Nostalgic
Mexican Cooking
Mexican Items
Minnow Seines
Noodle Making
Nostalgic Items
Nostalgic Metal Signs
Nostalgic Toys
Nutcrackers & Gatherers
Outdoor Cooking
Outdoor Utensils
Old Fashion Remedies
Pasta Makers
Pecan Gatherers
Pellet Guns
Perch Traps
Pies
Planters
Platform Cart
Popcorn Poppers
Potato Cutter
Potjie Kettles
Propane Gauge
Poultry Products
Purple Martin Houses
Recipes
Remedy Health
Root Beer Making
Rubberboots
Safety Equipment
Sausage & Jerky
Sausage Making
Sausage Spices - Mixes
Sausage Stuffers Parts
Sausage Stuffers Tubes
Sausage Stuffers
Saws - Meat Band
Scaffolds
Scales
Seines
Serving - Entertaining
Serving Tools
Shrimp Cleaner
Signs Nostalgic
Skillets
Skimmer
Slicers
Smokers
Snakes-Mounted
Snake Traps
Soap Making
Spices
Stainless Steel Cookware
Stainless Steel Cooking Tools
Stock Pots
Tableware
Tamale Machine
Temp Guns
Tenderizers
Tents
Texas Crockery
Texas Stuff
Thermometers / cooking
Thermgun -IR Thermometer
Tin Signs
Tomato Juicer
Tools
Tortilla Presses
Torquoise Jewelry
Toys Nostalgic
Transfer Cages
Traps
Trotlines
Turkey Fryers
Turtle Traps
Turtle Burger
TylerCandles
Vacuum Sealer Products
Vacuum Sealers
Vegetable Processing
Varmint Traps
Vintage Bird Houses
Washboards
Washer Pitch Game
Water Gardening
Watering Cans
Weathervanes
Welding Equipment
Wild Bird Feeders
Wildflower Seeds
Wildlife Feeders
Wine, Homemade
Wine Making Books
Wine Making Products
Woks
Wood heaters
Wrought Iron Products
Share with a Friend



92 Years in Business!
For Old Time Country Values!
1-800-300-5081
Se Hablá Español
ONE YEAR GUARANTEE


Potato Processing