2 - Tier Bamboo Steamer with Lid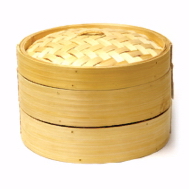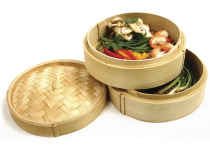 2 - Tier Bamboo Steamer with Lid
(Item #644047)
Bamboo steaming enhances natural flavors and retains essential vitamins and nutrients, usually lost in conventional methods. Perfect for steaming vegetables, fish and meats. Bamboo steamers are a healthy and effective way of cooking, using authentic Asian methods. The steamer sits in a few inches of boiling water at the bottom of a wok, so that as the hot steam passes through the basket, it cooks the food inside. This stackable bamboo steamer has two levels, meaning that whole meals can be cooked in one go, with fish or meat in the bottom level, and vegetables on top. It makes a great center piece on the table - particularly when filled with traditional treats such as wontons, sticky rice parcels or pork buns.
Each tier measures 10"W x 2.75"H.